H.V.A/R
4 years ago
Introduction
The HVAC/R teaching staff is dedicated in the teaching and hands on instruction of the student. The students will learn both from textbooks and from shop projects. Students will also get the opportunity to perform tasks throughout the school as they arise. The course is structured to adhere to the schools Mission Statement.
The HVAC/R field is in high demand and students will enter the job market with many opportunities. Students may also decide to continue on with their field and attend trade schools or colleges to receive a degree in the HVAC/R field.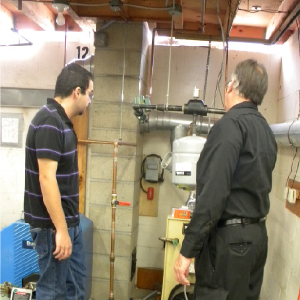 Facilities
Complete modern shop environment

Equipment of latest manufacturing department Federal safety standards

Co-op employment opportunities

Employment Opportunities
Construction Companies

Heating Contractors

Corporation Maintenance Department

Refrigeration Trucking Firms,

Hospitals

Computer Companies

Refrigeration Contractors

Self-Employment

Freshmen
Students enter the shop in tech awareness and are introduced to piping and electrical projects.
They are also introduced to the basics of refrigeration.
Juniors
Junior year focuses on Commercial refrigeration. Related classes learn what they need to know to work in the commercial refrigeration world. Shop work reinforces these lessons with constructive projects related to commercial refrigeration. Students learn and take their 608 Universal EPA lesson.
Sophomores
The students are challenged with many electrical projects as the sophomore year focuses on Electricity. The students learn from the Russell Smith book Electricity for Refrigeration and Air Conditioning.
Seniors
Senior year focuses on heating. Students learn in class and in shop about boilers and furnaces. Students pipe in their own boilers and learn about set-up and operation.